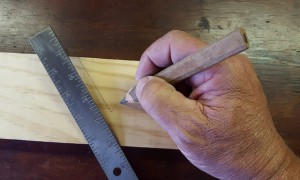 Pull Down Attic Stairs Installation – What They Don't Tell You In The DIY Store
---
Given That You Can Buy One in a DIY Store Like Woodies – It is Tempting to Believe that Pull-Down Attic Stairs Installation is Pretty Straightforward, so You Can Save a Nice Few Bob By Installing it Yourself.
However, Before Parting With Your Hard Earned Cash, There are Some Things Worth Considering that Just Might Save a Lot of Pain Over the Longer Term – and Maybe Some Money Too.
---
What's in it for Me?
I get it that some people will say that I am only plugging my own business by saying that there's more to installing attic stairs than meets the eye, but the simple fact is that there are things you really do need to know before you start out. If I tell you those things and you decide you're up for it – great – off with you. Here's a video to help you out.
 
If you're not up for it – well – who you get to do the job is entirely up to you.
---
Pull-Down Folding Attic Stairs
We're talking here about pull-down folding attic stairs as distinct from some of the small little loft ladders that are far easier to install and don't mean cutting out a bigger hatch. If you're reasonably good at DIY and have the basic tools then you should be able to handle one of those lads
A Pull-Down Folding Attic Stairs is a Beast of a Different Colour
---
Let's Get Started
Luckily, you can fit an attic folding stairs in the vast majority of houses, but you want to be certain if you want to avoid having to return the stairs to the DIY shop. The factors to consider are; the age of the house, having enough clearance to use the stairs, and the strength of the joists. The strength of the joists is usually related to the age of the house in that some very old houses have weak joists and weak ceilings. The last thing you want is to have to shovel your ceiling off of your bed.
Although it may seem obvious, you will need a bigger hatch entrance to your attic. The hatch size for a standard folding stairs is usually as much as double the size of the existing hatch. You will need to cut out an additional section of your ceiling to suit the size of the stairs. This means you will most likely have to cut a joist. Make sure you have a decent saw.
The joist you have cut is an important ceiling support and will, therefore, need to be reinforced with a new piece of timber. This piece of timber does not come with the attic stair pack. You will need to pick it up somewhere or buy it. You will also need to know what you're doing when reinforcing the ceiling joists.
In some cases, cutting a joist is not feasible as the ceiling structure is unsuitable and will be weakened despite additional reinforcement. In such situations, you may be able to fit a smaller stairs than the standard one but you will need to clarify this before you buy.
You will need to clear any cables lying across the new hatch area. If they are too short to move they will need to be lengthened or re-routed.
The same goes for pipework.
Be very careful when cutting your ceiling, especially if it's old. Old plaster can be very brittle and fragile and can break away in chunks quite easily. The result is a big mess and having to patch the ceiling afterward.
Be especially careful when buying an attic stair. Though all stairs are obliged to meet standards, some are better quality than others and will, therefore, last longer and are less likely to cause problems. While most attic stairs look pretty much the same in the pack – the quality of the spring mechanism is what really matters and some stairs have poorer quality springs.
You will hear it claimed that you can fit an attic stairs in 2 hours. Experienced installers can – though even they will sometimes take longer. It has on occasion taken me double that with some complicated installations and I do this for a living. If you've never fitted one before, expect to spend considerably more than 2 hours at it.
Installing a pull-down attic stairs is one thing. Doing it right is another. Aside from the structural and safety issues that can result from a bad job, a poorly fitted stairs can compromise the seal and consequently the insulation and fire prevention qualities of the hatch.
A stair that compromises the ceiling support structure can be an issue when it comes to selling a house. Don't take chances. You must make sure the job is done properly. I have refused to accept jobs where there is the remotest possibility of compromising the ceiling structure.
---
The Bottom Line
DIY Enthusiasts
If you are a DIY enthusiast whose main experience is putting flat pack furniture together then I suggest that a Pull Down Attic Stairs may be a bridge too far. You will at the very least need good advice. The sort of advice you probably won't get in the DIY store.
The Handyman
An experienced handyman should be able to do a decent job but remember – you are interfering with the support structure of the ceiling and you really do need to know what you're doing.
Carpenters
If you are not using an experienced installer I highly recommend that you use a carpenter. Mind you, I have come across carpenters who hate installing attic stairs because they feel they are too much trouble. Ask them for a price first. A carpenter may be excellent but not have the acquired skills of an installer with years of experience. Even the best of carpenters is unlikely to complete the job faster than a specialist installer and could, therefore, be more expensive.
A Specialist Installer
No Fuss – No Hassle.
No Mess to Clean Up.
No Having to Figure Out What Stairs to Buy.
No Tears and Added Expense if the Job Goes Wrong.
Just a Quality Pull-Down Attic Stairs Installation You Can Rely On and that Comes With a Guarantee.
Attic Stairs Solutions Cork
An Attic Stairs Installation You Can Rely On
Phone Steve
087 6383118